What else is possible when your Soul, Body, Being, and Spirit are in total communion?
This 3-day intensive journey is a deep dive into CHANGE.
Circle with us to shake up mental and emotional habits and beliefs that are no longer serving you, drink from the well of collective wisdom we create as a group, and uncover deep guidance and perspective from your Soul. This experience is designed to reorganize consciousness and help you sift and sort the many facets of what makes you, YOU, so you can discover what is coming to the surface to release and what you are ready to cultivate and receive. 
These intensives are designed to be a small, personal journey of only 4-6 people, so that we can hold each participant's healing and experience with the utmost of care and attention, much more than we are able to do in a larger group. 
Our intensives are designed to catalyze healing on every level in a very personalized and powerful, individual and group process. This is a healing journey with teachers that live, play, eat, and create with you in real-time, the whole time. During these collective journeys, we learn from one another, we share our experiences, our ahas, and our challenges, allowing time and space with other humans that are committed to healing. Healing in an environment with others can be a profound gift, one that enables us to come out of the sometimes lonely, isolated inner world. It has been our experience that as we share ourselves, our healing, and our presence with one another in a space that's cultured and created for self growth, personal exploration, and healing, magic can happen!  
An intuitive deep dive that arises and is informed by participants' experiences

Gabrielli and Chloe's use of their perceptive gifts to lens for emergent curriculum that follows the flow of the group

The use of teachings and tools from the

Infinity Healing Practice

Sacred Ceremony

Somatic Practices

Movement and yoga fusion

Structured group and paired exercises

Guided Visualizations

Reflective writing exploration with prompts

Dance and movement opportunities to help you move and process in your body

And more!
Gabrielli and Chloe's work and teachings are based in profound intuition, neural science, energy medicine, and a rich and complex pursuit to follow the organic nature of healing. They weave and dismantle energies that block pathways to emotional healing and invite you on a participatory journey that blends practical, informative curriculum with divine essence. 
Gabrielli and Chloë are unusual in their willingness to recognize that healing is happening through all the moments of the experience, not just during a structured exercise or group process. They are approachable and available for support throughout your journey.
In the intention to bring consciousness to every moment, Gabrielli and Chloë attend to all aspects of your experience including food and food prep, cleaning, potential allergens in the environment or food, how sleeping spaces are arranged, and more. They find joy in bringing the most pristine care to the entire journey.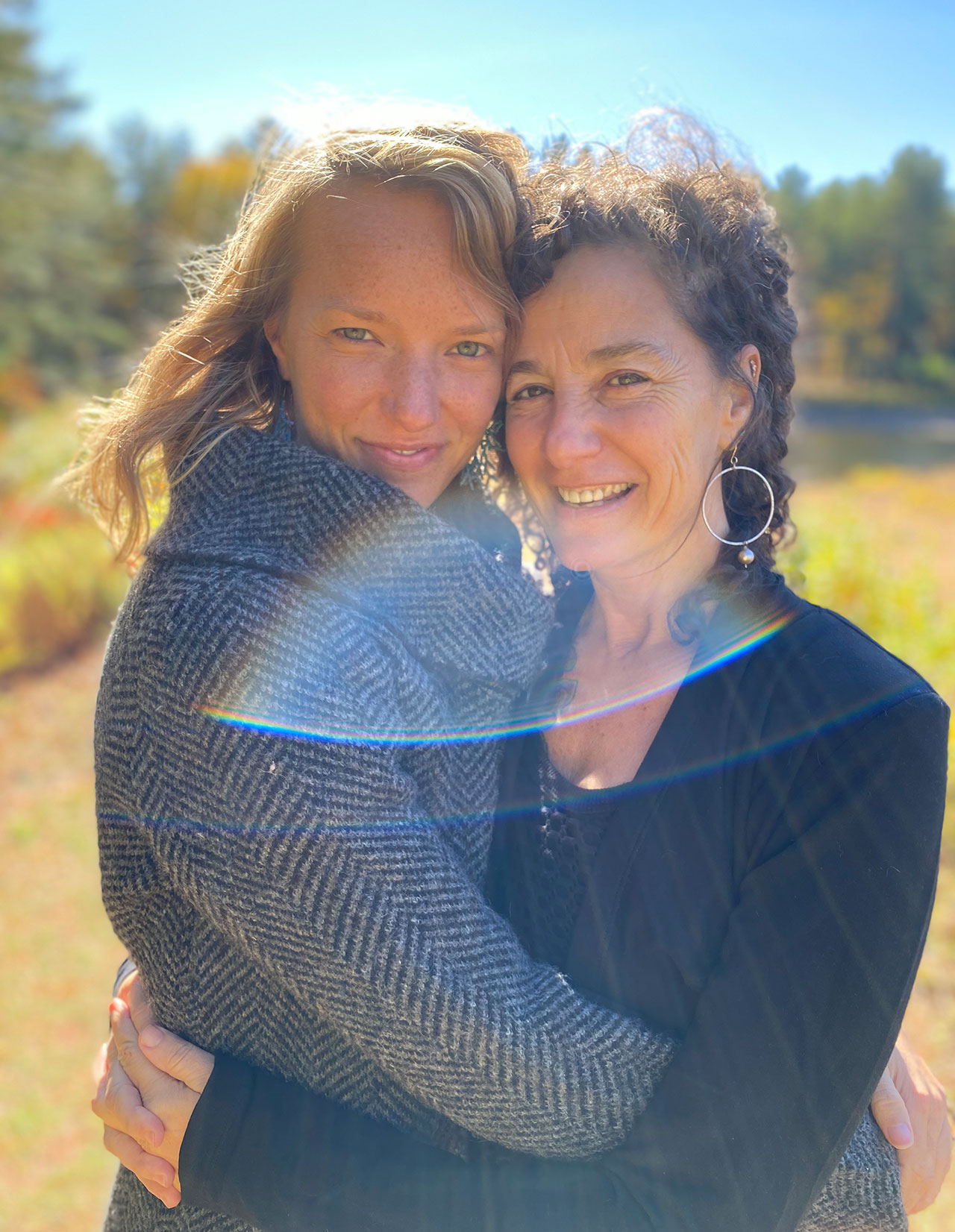 Any of our in person offerings could have hands-on healing practices that accompany experiential exercises, mindfulness techniques, and self awareness tools. We prioritize safety and self determination over goals and outcomes for healing, and will not touch you without your full consent. Check out our Values page for more information on self determination and our other integrity values.
We are profoundly committed to showing up without judgement and strive to create the most supportive spaces possible so that participants can be held in their process and vulnerability. We continue to be amazed and inspired by what arises when we gather people together who bring an intention to heal, a curious heart, and the courage to examine the many facets and experiences life may bring.
PLEASE REACH OUT IF YOU HAVE ANY QUESTIONS
If you haven't worked with us before, please set up a time to chat before registering to make sure it's a good fit for both of us. Either email us at info@gabrielli-chloe.com or click here.  Thanks!  Gabrielli & Chloë
When
December 16th-18th

Arrival:  4p on the 16th
Closing:  12p on the 18th
How Much
Sliding Scale: $920- $1,380
Currently taking $500 deposit to reserve your spot
Fee includes facilitation, all meals, snacks, and dorm style bedrooms.
Payment Plans are available, please write info@gabrielli-chloe.com
Please consider our sliding scale in terms of a larger global and societal context of wealth.  We've been inspired by the innovative pay structure of Dr. Bayo Akomolafe. For more information scroll to the bottom of this page. 
"The [retreat] creates an amazing feeling of community between people where your potential as human being shows up in a clarity rarely allowed in other situations. In this context, authentic sharing, growing, and connecting with others is natural."
"Thank you sooo much for midwifing us all into more of us. It's really the greatest gift on earth. I look so forward to seeing the unfolding of myself with my Soul-line connected."
"For anyone thinking about doing a training or intensive, each experience with [Infinity] is invaluable for a plethora of reasons. The Week Long Intensive program provided me a safe space to fully immerse myself in the wisdom of the teachings and offer myself a deeply supported healing opportunity infused with magic. These experiences have been the catalyst for different shifts and healings in my nervous system and have led to lasting changes with my personal healing that are surprising and exciting. I am infinitely grateful!"
We strive to host inclusive, accessible events. If you have a disability or specific access needs in order to fully participate in this activity, please contact Rob at register@infinitypractice.com or 310-570-7123. Closed captioning will be available on all Zoom events.
 We look forward to being on the journey with you!
Please consider our sliding scale in terms of a larger global and societal context of wealth.  We've been inspired by the innovative pay structure of Dr. Bayo Akomolafe, and present his framework: 
We offer sliding scales based on your relative financial standing and level of access to wealth in the global context.  As you decide what amount to pay, we ask that you not only consider your present-day financial situation governed by income but also factors including:
Historical discrimination faced by your peoples

Your financial wealth (do you have retirement savings?)

Your access to income and financial wealth, both current and anticipated (how easily could you earn more income compared to other people in your country and in the world? do you expect to receive an inheritance?)

People counting on your financial livelihood including dependents and community members

And the socio-economic conditions of your locale (relative to other places in your country and in the world)
If you feel challenged by the financial requirements of participation, please reach out to us. If this process is overwhelming or confusing, or if this framework does not resonate with you, we invite you to get in touch.  We are open to being in dialogue and relationship around this, we see it as a learning process for us all.
Much gratitude to Dr. Akomolafe for his generosity in sharing his ideas and words.  Learn more about him and his course "We Will Dance with Mountains."
A Chloe Faith Graphics Creation.
©2020 Gabrielli LaChiara & Chloë Faith Urban